Abbey Triduum Retreat
March 29 - April 1, 2018

Presented by Brother Robin Pierzina, OSB
Reservation Information
The retreat begins at 4:00 p.m. on Holy Thursday and concludes after lunch on Easter Sunday at 1:00 p.m. The cost is $290 for a single room, and $520 for a double room ($260 per person).
To register for this retreat, contact the Spiritual Life Office at 320-363-3929, email us at spirlife@osb.org, or register online.
Further Ahead
December 7-9, 2018 Advent Retreat with F

r. Nick Kleespie, OSB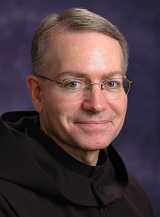 Brother Robin Pierzina, OSB
Bro. Robin Pierzina, OSB, a graduate of Saint John's University, professed vows as a Benedictine monk in 1977. For thirty-one years he was an editor at Liturgical Press. Since 2011 he has been the editor of Abbey Banner, magazine of Saint John's Abbey. He has also served as the chair of Saint John's Design Committee (now Campus Planning and Design Committee) since 1984.