Married Couples Retreat
February 9-11, 2018

Marriage Revisited: A Time to Reflect

Presented by Bernadette and Ed Dunn

The retreat will invite couples to reflect on their ongoing, growing and changing relationship. The heart is often used to symbolize love and marriage, and St. Benedict says we should listen with the ear of the heart. This retreat offers couples quality time to listen to and share with each other how they see their relationship has grown deeper over the years; how their awareness of God in their lives has changed them; and how they see their marriage as a symbol of community.
Registration Information
The retreat starts with supper on Friday at 5:30 p.m. and concludes after lunch on Sunday at 1:00 p.m. The cost is $295 per couple for a double room and includes the retreat conferences and all meals.
Couples who wish to commute may join us for the retreat conferences and lunch on Saturday and Sunday. The cost is $75 per couple.
To register for this retreat, contact the Spiritual Life Office at 320-363-3929, email us at spirlife@osb.org, or register online.
March 2-4, 2018 Lenten Retreat with Fr. Bob Koopmann, OSB
Mar 29-Apr 1, 2018 Triduum Retreat with Br. Robin Pierzina, OSB
December 7-9, 2018 Advent Retreat with Fr. Nick Kleespie, OSB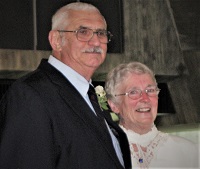 Bernadette and Ed Dunn have been married for 53 years and raised four children. Bernadette holds a Master of Divinity degree from Saint John's University, School of Theology, Collegeville, MN, and a certificate in Pastoral Studies from Loyola University, New Orleans. She has been active in ministry for 40 years, both at the parish and diocesan level. Ed holds a BA from Iona College, New Rochelle, New York and served in the Navy for 26 years, retiring as a Lt. Commander. Currently, Bernadette and Ed volunteer in the Abbey Guesthouse and Retirement Center, respectively.