Abbey Advent Retreat
December 8-10, 2017

Parables and the Reign of God—IV
Presented by Abbot John Klassen, OSB

These conferences will focus on Jesus' use of parables (in either speech or action) to proclaim the reign of God. While we have heard most of these stories many times, there are ways to approach them that reveal fresh and provocative meanings. Above all, Jesus was calling people to a new vision of God, a new covenant, a new ethical vision. In the parables we are invited to make a choice and to come to a decision. We are urged to pay attention to what we are doing and face issues we prefer to ignore. The parables tell us that it is in the midst of the everyday—the regular, mundane business of our eating, drinking, sleeping, choosing, loving, forgiving, reaching out, journeying, answering doors, offering hospitality, sharing and listening to midnight stories—that our happiness and salvation are worked out. The story of our salvation lies inside the story of our everyday life.
Registration Information
The retreat begins with supper at 5:30 p.m. on Friday and concludes after lunch on Sunday at 1:00 p.m.
Cost: Single room, $195; double room, $340 ($170 per person); retreat conferences and meals included.
To register for this retreat, contact the Spiritual Life Office at 320-363-3929, email us at spirlife@osb.org, or register online.
December 29-Jan 1 Year-End Retreat with Fr. Joseph Feders, OSB

February 9-11, 2018 Married Couples Retreat with Bernadette and Ed Dunn
March 2-4, 2018 Lenten Retreat with Fr. Bob Koopmann, OSB

Mar 29-Apr 1, 2018 Triduum Retreat with Br. Robin Pierzina, OSB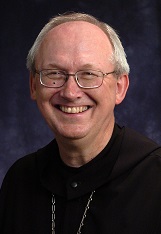 Abbot John Klassen, OSB
Abbot John Klassen, OSB, leads a community of 120 Benedictine monks who sponsor and work at Saint John's University, Saint John's Preparatory School, the Liturgical Press as well as in parishes, hospitals and retirement centers. With a degree in bio-organic chemistry from Catholic University of America in 1985, he taught organic and biochemistry, as well as an ethics course on technology at Saint John's University from 1983 - 2000 before being elected the tenth abbot of Saint John's Abbey.